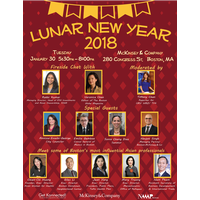 Join us in ringing in the Year of the Dog!
NAAAP Boston is proud to co-host a Lunar New Year celebration with GetKonnected, a premier Boston area professional networking group, on Jan. 30th. This event will feature many prominent figures and it is not to be missed! Please see attached poster for additional information. Space is limited so please register ASAP if you'd like to attend:
https://events.r20.constantcontact.com/register/eventReg?oeidk=a07ef0qqh9e93d8eff3&oseq&c&ch

P.S. If you're a NAAAP member, you are eligible for a discount ($5 off). Please use promo code NAAAP5OFF. If you have any questions, please write to us at communitypartners@naaapboston.org.

Hope to see you there!
---