WIN<-> PDC Workshop: Unleashing the Quiet Strength Within
Women in NAAAP and Professional Development Committees present the "Unleashing the Quiet Strength Within" workshop.
DESCRIPTION:
We often think of successful speakers and leaders as needing to be the one's who engage a room with their gregarious personalities. But introverts have a unique value to add. Learn what that is and how to bring it to life in yourself. This interactive workshop also helps extroverts understand the value-add of their counterparts.

WHO IS THIS WORKSHOP FOR?
Introverts =) and people on any personality spectrum who love to grow personally and professionally

WHAT YOU'LL LEARN:
-Why quiet strengths are needed in the world
-How to harness the quiet strengths to connect with teammates, clients, and stakeholders
-How to reframe any situation as an opportunity for innovation, growth, and support

INSTRUCTOR BIO: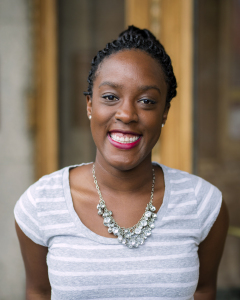 Amma Marfo is a thoughtful yet incurably silly independent higher education professional, writer, and editor based in Boston, MA. She holds a Bachelor's degree in Communication Studies from the University of Rhode Island, and a Master of Education from the University of South Florida.
Amma is a dynamic and sought-after speaker on topics such as leadership, group dynamics, creativity, and incorporating your values into your work and larger goals. She speaks on college and university campuses across the country, at regional and national conferences, and has partnered with organizations like HubSpot, Wayfair, Ovia Health, and General Assembly.
She is an outspoken advocate for creativity, believes strongly in the power of humor, and looks forward to helping you find the way you live and work best.
Please contact <santi.gencheva@naaapboston.org> for any questions or inquiries.
Refund Policy: We are unable to provide refunds.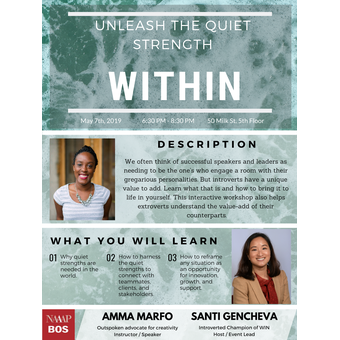 50 Milk Street 5th floor, Boston, MA 02109, United States