Volunteer Kick-Off
Professional Development, Volunteer Kick-Off (Food included)
a.February 18th, 2019 6:00 PM – 7:30 PM
b.50 Milk St. Boston, MA, CIC Boston – 18thFloor
Purpose: NAAAP Boston is a non-profit organization run by purely volunteers. To continue our mission, we actively seek your help in getting involved. Come learn about how you can volunteer, have food (on us), and meet the team!
Interested in doing a little more? We are currently recruiting for the following in PDC:
>> Mentorship Program Lead (1)
>> Event Managers (2)
>> Focus-Group Planning Lead (1)
>> Pride Project Manager (1)
Interested in volunteering but still on the fence? You can still join us/our Facebook group where we will post opportunities to help out during events and such!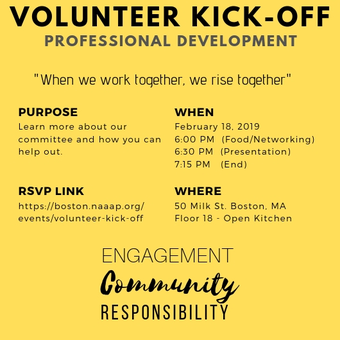 50 Milk St. Boston, MA, CIC Boston – 18th Floor