Volunteer Event: Green Team at Fenway
Join us for NAAAP Boston's collaborative volunteer event with NAAAP's WIN group, NAAAP Community Service committee, and Boston Red Sox's Green Team! For this community volunteer event, we will be collecting recyclables (plastic cups, bottles, and cans) throughout the game. Please plan to arrive on time at 6PM. Participation is capped at 25 people, so please only RSVP if you can commit to Monday, October 3rd at 6:00PM. Come watch a free game, do good for the community, network with other volunteers, and eat a complimentary hot dog or pretzel!
Registration closes on Sept. 30!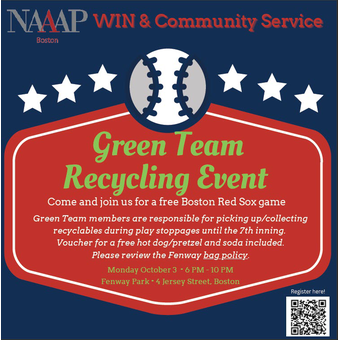 4 Jersey St, Boston, MA 02215, USA