Professional Development - Focus Group
As Boston's leading organization for Professional Development for Americans of Asian and/or Asian Pacific Islander Descent, the Professional Development Committee is hosting a night of Intimate conversations about the state of Development Opportunities among local Employer Groups in the Boston and Greater Boston region.
We invite you Join us and be a part of a new voice to help identify improved opportunities for evolving the diverse and abundant talent in our communities.
This is a free event and will be hosted at the Cambridge Innovation Center (CIC) at 50 Milk St. on January 22nd, from 6:30 PM to 8 PM. When arriving at the CIC, please sign-in through the front entrance under "NAAAP Boston" and go to the 18th Floor.
If you have strong feelings about professional development opportunities in Boston, or have a desire to further advance Asian and Asian Pacific representation in the Business world, or want to know how our NAAAP Boston organization fits into the bigger picture, implore you to attend and participate in moving this vague but important agenda.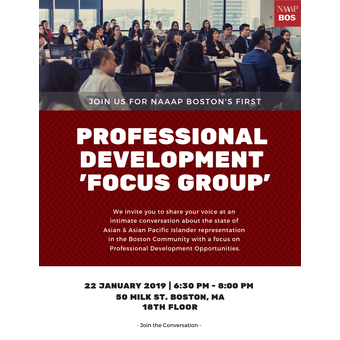 50 Milk St, Boston, MA 18th Floor