Vision Workshop - Gaining Clarity for Success
EVENT LOCATION CHANGED TO 11TH FLOOR!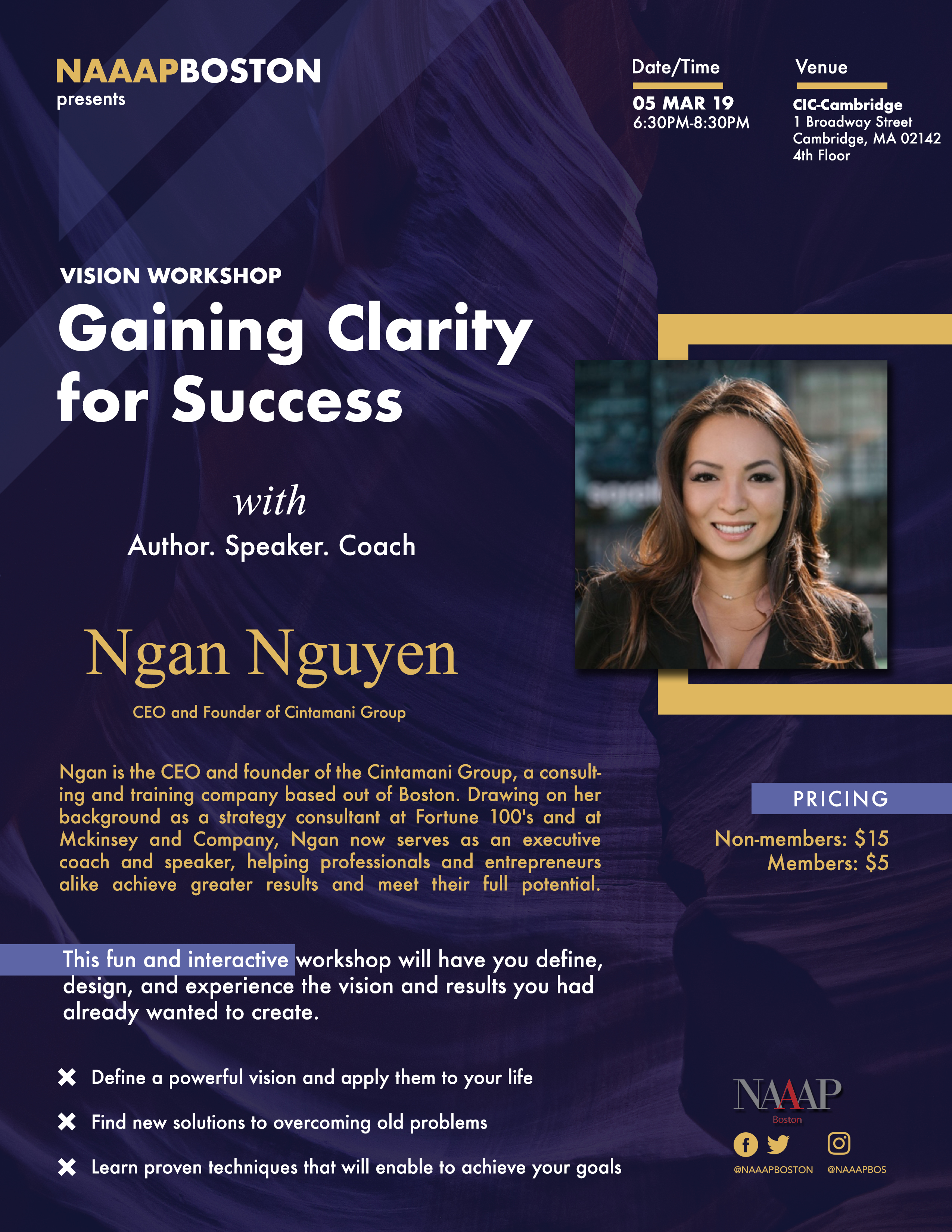 Title: Vision Bootcamp – Gaining Clarity for Success
Description: Based on the work of Napoleon Hill, we all possess faculties that the most successful leaders and entrepreneurs throughout history have used to create their results. When you learn this in order to define a powerful vision and apply them to your life, you will find new solutions to overcoming old problems, your challenges become smaller, you will have more drive and energy to achieve your goals and greater impact. In this interactive and fun workshop, you will have an opportunity to define, design, and experience the results you would love to create – and learn proven tools & strategies that will enable to achieve your goals with greater ease.
Bio: Ngan is the CEO and Founder of Cintamani Group, a consulting and training company based out of Boston. Her company was built on the belief that there is a path of well-being and authentic success for each one of us. When we move into that flow, there is much greater joy and our world moves forward in a positive direction. Drawing on her background as a Strategy Advisor in Fortune 100 companies and at McKinsey & Company, Ngan now serves as an executive coach and speaker, helping professionals and entrepreneurs achieve greater results and live into their full potential.
-
PRICING: $15 Online/at the Door - Credit Card accepted.
LOCATION: CIC - Cambridge 4th Floor Kitchen!
What to do when you arrive - Sign-in with Security and write "NAAAP Boston" under company name. There will be a NAAAP volunteer at the front entrance that will be leading directions. You will take the elevator to the 4th floor and walk towards the noise!
Public Transportation - Get to Kendall Square Station (Red Line) - cross at the major intersection until you see signs for the front entrance.
By Vehicle - There are a few parking lots around the area. Our suggestion is to use the MIT Tang Center E51 Parking garage located 5 minutes away.
If you have any questions, feel free to contact Harris.Zhao@naaapboston.org for more information.
Cheers,
The NAAAP Boston Team
One Broadway, 1 Broadway, Cambridge, MA 02142, USA - CIC Cambridge, Floor 11