Self-Advocacy in the Workplace – Women's History Month
Self-Advocacy & Negotiation at Work: Are you ready to take your career to the next level, but fear of asking for what you want is holding you back? If you've found yourself waiting to be recognized for your hard earned efforts to no avail, I invite you to join us and step into your power and move the needle on your career. This interactive session will provide you with the tools to successfully navigating your career from a position of confidence and evidence. If you're considering a new role, asking for a promotion or raise, or interested in a career transition, please join us to learn best practices in how and when to self-advocate and negotiate at work. We will discuss:
how to use the power of your network

how and when to articulate your value

giving and receiving feedback

investigative negotiation
No matter what industry or level of experience you bring to the table, this discussion will provide you with actionable insights that you can apply to your career to ensure the next six months at work will align with your overall career goals and dreams.
About the Speaker:
Ashley Paré is the Founder of Own Your Worth, LLC, on a mission to break glass ceilings through career negotiation. As an Intuitive Leadership Coach, Negotiation Expert, and Speaker, Ashley is passionate about gender equity and women's advancement in the workforce. She has over 12 years experience in corporate HR and extensive experience coaching highly motivated leaders in technology, finance, marketing, and startups. Ashley coaches private clients and consults with organizations to create inclusive cultures and develop women's leadership advancement programs. In addition, Ashley is a Lean In Circle Leader and facilitates for the AAUW Work Smart program in the city initiative to close the gender pay gap. You can connect with her about coaching or speaking opportunities at www.ownyourworth.com.
Food and soft drinks will be served!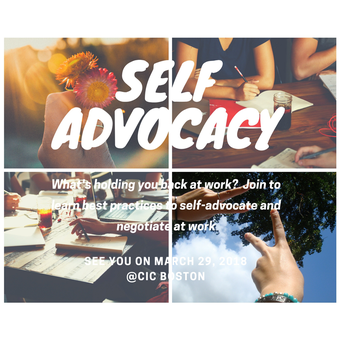 CIC Boston, 5th floor, Meridian Room, 50 Milk St, Boston, MA 02109