VOLUNTEER OPPORTUNITY-Boston Chinatown Main Streets Cultural Village
Come volunteer at Boston Chinatown Main Street's Lunar New Year Cultural Village with NAAAP Boston!
We will help set up, run, and clean up the Cultural Village along with Boston Chinatown Main Streets.
Chinatown Main Street (CMS) is a local nonprofit organization committed to making Boston a thriving cultural and commercial center for all businesses and people. CMS was founded in 1995, and we are still operating to serve the community almost three decades later.
CMS is one of the twenty Main Street Organizations in the City of Boston that operate to serve its people and businesses. Our mission is to beautify the district, recruit new businesses, preserve and strengthen existing businesses, and draw people into the district, maintaining safety and promoting cleanliness in the community.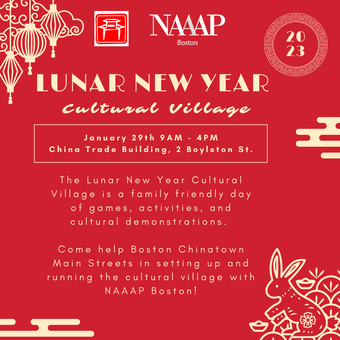 2 Boylston St, Boston, MA 02116, USA