Volunteer Opportunity with WIN - Rice Sticks and Tea
Come volunteer with the Women in NAAAP (WIN) Committee at Rice Sticks and Tea, an Asian Food Pantry, located at Arlington Street Church!
Limited spots are available! Volunteers will be tasked with sorting, bagging, and distributing food to their clients and families. In addition to volunteering, donations are not required but are welcome:
Asian noodles

Pasta

Dried red or green beans

Small bottles of cooking oil

Check - payable to

Ricesticks and Tea c/o AACA
The dress code is casual with closed toed shoes. Please also wear a mask and if you have disposable gloves, bring them!
Rice Sticks and Tea (RST) is a food pantry program serving over 120 pre-screened low-income Asian immigrant and refugee families each month. Those 120 households represent over 300 children, adults, and seniors. It's the only food pantry program in the region whose mission is to serve the Asian community and provide food that is consistent with their cultural cooking traditions and preferences.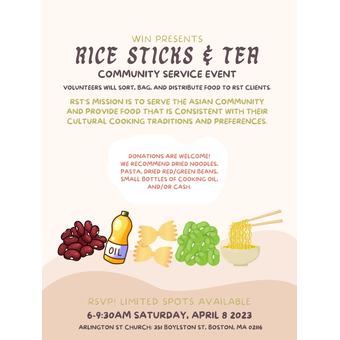 Arlington Street Church, 351 Boylston St, Boston, MA 02116