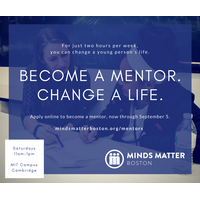 Want to make an impact? We are looking for new mentors for our incoming class of high school students this fall!
NAAAP Boston is partnering with Minds Matter Boston to recruit mentors. They are in need of more Asian American mentors for the students!
About Minds Matter:
Minds Matter Boston empowers highly-motivated high school students from low-income communities to achieve academic excellence and to overcome barriers limiting opportunities for post-secondary education. As a mentor, you will have the chance to transform a young student's life by supporting their college dreams. You could be the catalyst for helping a student become the first in his or her family to attend college.
Becoming a mentor:
Minds Matter of Boston is volunteer-driven organization. Our team is comprised of approximately 200 professionals who represent many leading companies in the Greater Boston area.

Our students are each paired with two young professionals who guide the student through all aspects of the college application process, from ACT prep to college selection and financial aid applications. Our mentors provide individual support and guidance, allowing each student to fulfill his or her potential and make the leap to college.

The mentoring component of sessions is held on Saturdays from 11:00 AM - 1:00 PM at MIT campus.

There are approximately 25 sessions throughout the school year, and mentors are expected to attend 80% of those sessions.

Mentors should be a consistent and positive influence for each student throughout their experience, so we ask mentors to make a 2-year commitment to the program.
How to apply:
Please submit an application via https://www.mindsmatterboston.org/mentors/ before September 5th, 2017. Applicants from diverse backgrounds are encouraged to apply.
Questions?
Please contact mentor.recruitment@mindsmatterboston.org or our Director of Programming, Jada Alexander at jada.alexander@mindsmatterboston.org. For general inquiries, please contact Suwan Lee and Joshua Yagi atcommunityservice@naaapboston.org.
---