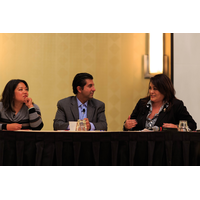 The success of NAAAP Boston over the past thirty years could not have been achieved without the support of the organization's corporate sponsors. Similarly, NAAAP also relies on the Corporate Relations Committee (CRC), as they build relationships with potential sponsors that can help NAAAP grow.
Primarily, the CRC acts as the breadwinners of the organization. They identify prospective sponsors - all of which support NAAAP's mission to build leaders within the Asian American community - and do their best to sell the value of NAAAP through consistent and persuasive communication. In order to appeal to potential sponsors, the CRC is responsible for designing programs that leverages NAAAP resources to promote the sponsors' diversity, inclusion and business goals.
One of the CRC's leading roles in seen in the Account Manager. With skills in communications, organization, time management and relationship management, the Account Manager drives the search for new sponsorship and maintains a strong relationship with current sponsorship. They represent the organization in new business development activities by attending NAAAP networking events, partner conferences and activities.
The Director of Corporate Relations also serves as a driving force in the CRC and oversees all operations within the committee. The Director presents the value of NAAAP Boston to prospective sponsors and additionally pipelines meetings and calls to secure sponsorship even further. They also act as a main point of contact between the internal NAAAP Boston team and internal NAAAP Boston committees, supporting the latter when they require events or programs that need to engage the sponsors.
Currently, there are twelve corporate sponsors who contribute on various levels to NAAAP, providing financial resources, networking opportunities and job openings that are only available for NAAAP members. The CRC is responsible for maintaining relationships with those current sponsors and partners, many of which include HR and Diversity and Inclusion professionals at Fortune 500 companies.
Without the Corporate Relations Committee, NAAAP would not be able to fund any of the NAAP Boston workshops, conferences, BBQs, Scholarship Brunches, mixers, volunteer opportunities or any other annual events. The Corporate Relations Director and Account Manager roles in particular are valuable to helping the organization as a whole succeed financially, and are roles that require skills important for their professional and personal lives.
As of July 20, NAAAP Boston is looking for candidates interested in the roles of Corporate Relations Director or Account Manager. Please check our Career Center page for the specific descriptions. Contact recruiting@naaapboston.org with any questions.
---