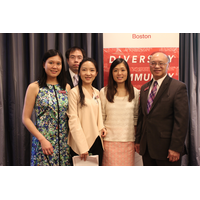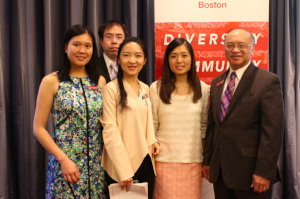 NAAAP strives to connect Asian American professionals with one another across various fields, professions and experience levels, creating a community of diverse but passionate leaders. As a result, NAAAP Boston has recently established the Community Partners Committee, made up of a group of individuals who focus on developing new strategic partnership with key organizations that support the overall mission of NAAAP Boston, and collaborate with organizations that share one similar goal: to build the face of Asian American leadership.
Key initiatives that the Community Partners Committee runs includes work to cultivate new relationships and strengthen existing partnerships with NAAAP Boston's corporate sponsors, in-kind partners and other local community organizations.
Recognizing the importance of uniting the Asian American community and expanding the professional network that members can reach by joining NAAAP, our organization has collaborated with over 20 in-kind partners and local community groups. NAAAP partners with nonprofit organizations that focus on expanding professionalism within the Asian American community like GetKonnected, which offers networking opportunities to professionals with diverse cultures in the Boston area, and New England Chinese Information and Networking Association (NECINA), which focuses on connecting Chinese individuals specifically. Other partners have a focus on Asian American rights and empowerment, such as the Asian American Commission or the Asian Task Force Against Domestic Violence.
Collaborating with community partners not only allows NAAAP members to meet Asian American professionals with similar goals and beliefs about leadership, but also unites the Asian American community, as leaders can support one another in their professionals endeavors. The work of the Community Partners Committee helps spread the overall mission of NAAAP Boston—to build leaders—to more and more individuals each day, advancing the opportunities and connections that Asian American professionals need.
Please contact grace.yao@naaapboston.org for more information.
---