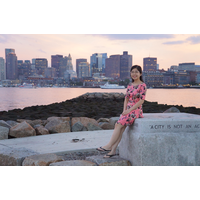 "Leaders don't create more followers, they create more leaders." — Tom Peters
This was one of the greatest quotes that NAAAP Boston Assistant Treasurer Anh Le lived by when she is in NAAAP, and one that she would continue to live by thereafter.
Anh Le, a Vietnamese native of Buon Ma Thuot, came to America at the age of 17 to pursue a bachelor's degree in Business Admission with a dual concentration in accounting and finance. She is currently a Senior Finance Associate at Bian Capital. Prior to this, she was a Senior Auditor at Deloitte & Touche as well as the Community Outreach Co-Chair for their Asian Business Resource Group.
The immense pride and passion she takes in her heritage influenced her to be involved in many Vietnamese cultural events in Boston, such as the city's Tet Festival/Lunar New Year, and Mid-Autumn celebration. In her free time, she enjoys reading to enhance her knowledge, playing the guitar, shopping, spending time with family and hanging out with friends, and traveling to explore new places, cuisine, and culture.
Le has had a truly wonderful experience volunteering with NAAAP Boston since January 2016 on the 30th year Anniversary Conference Planning Team and the Community Service Committee (CSC), as well as in the Assistant Treasurer role since November 2016.
During her involvement with NAAAP for over 22 months, she has connected other members who share her passion in building a strong community of leaders, especially with other chapters who share the same passion in building future leaders and helping the community. As Assistant Treasurer, she assisted the current Chief Financial Officer, ShiHui Liu, with the budgeting, financial planning, and reporting process. They provided the leadership team with the essay financial information for operations, planning, and executing events. In 2018, Le will move up to the CFO role on the NAAAP Boston Executive Team.
Le joined NAAAP because she believed in its mission of building leaders — one that coincided with her strong belief in the power of diversity, inclusion, and community. NAAAP Boston, to her, is an amazing family that supports their members and leaders, always providing them the resources and tools they need to explore their potentials and go beyond their limits. She hopes that more people will join NAAAP Boston in creating a greater network of Asian American professionals so they can provide an even greater impact on their community.
If you are interested in getting more involved with NAAAP Boston or are interested in a NAAAP Leadership role, please email recruiting@naaapboston.org.
---