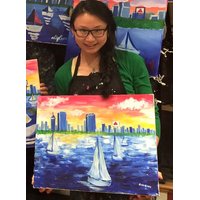 ChiChi Gao, originally from China, currently works at State Street as an internal auditor. She has acquired more than six years of combined public accounting and business process consulting experience within financial, operational, risk and compliance disciplines.
Outside of her job, Chichi is a dancer. She participates in competitive ballroom dancing and social dances like salsa, bachata, and tango. A passionate traveler, Chichi claims she can be in a different country over the weekend and show up in the office on Monday morning (sometimes showing up with her luggage after a red eye flight). She travels for both work and leisure, trying different types of traveling—from backpacking to going on road trips to staying in resorts. Chichi recently spent one month in Spain for vacation where she also took intensive Spanish classes five days a week and lived like a full-time student in Madrid. She also learned how to dance the Flamenco. Chichi's travels offered her the chance to learn about the country beyond just its surface, as she could embrace the culture and get a better feel of the country.
Chichi has been a member of NAAAP for more than 6 years since moving to Boston. She started by becoming an active member, showing up to almost every single NAAAP event, and getting to know fellow great young professionals.
One of ChiChi's favorite NAAAP programs is the WIN Lean In Circle, a one year peer-to-peer women career development program where a group of great ladies meet monthly. The goal is to bring ongoing inspiration and support so that all participants can feel equipped to pursue their ambitions and achieve their goals. They openly talk about the challenges that professional women face and work together to change the conversation from "what they can't do" to "what they can do." Participants not only form an active and solid peer-to-peer support community, but also gain opportunities to learn from each other through an open exchange of ideas and experiences. Through the Lean In Circle, ChiChi also met one of her current best friends, Vivian, who previously served as NAAAP Boston's Women in NAAAP (WIN) Director. ChiChi also wanted to contribute to the great community of NAAAP so when she was approached with the opportunity to help manage corporate relationships, she eagerly joined the team.
Chichi also currently volunteers with the Corporate Relations Committee and is an Account Manager for State Street. In 2017, State Street and NAAAP partnered together on a number of co-hosted events focusing on career development and received excellent feedback.
When asked for a quote from NAAAP that she truly believes in, ChiChi responded, "we together make a difference." With the commitment and passion that volunteers like ChiChi have for transforming the opportunities and lives of Asian American professionals, NAAAP truly does make a difference for the community.
---