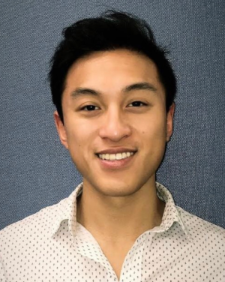 Harris Zhao joined NAAAP Boston because of how well the organization fostered a family environment and gave Asian Americans, like himself, an opportunity to meet new people and give back to the community. In his point of view, NAAAP members are strongly committed to the organization's mission, which is to "cultivate and empower Asian and Pacific Islander leaders through professional development, community service, and networking." This mission is especially salient because sometimes, Harris found himself facing challenges in being unable to connect with his co-workers because of different backgrounds and experiences. At NAAAP, he feels like he is more at home because everyone shares similar backgrounds and beliefs about doing good for the Asian American community.
Harris currently serves as the Director of Professional Development on NAAAP Boston's Leadership Team. A significant part of his position is to plan and execute the upcoming professional development AccelerASIAN conference--a chance for working professionals to learn, practice, and master leadership skills. This event occurs yearly, though he looks forward to expanding the program so it can occur biannually.
Harris wishes to see everyone attend the "AccelerASIAN" conference. The keynote speaker of this event will be Bill Imada: founder, chairman and chief connectivity officer of IW Group. He also serves on the Senior Advisory Council at NAAAP National. As the event is coming up soon, Harris wants to tell the NAAAP community that he hopes everyone will not only attend the event, but also actively participate in the conference's workshops and network with other professionals. He hopes that this conference will provide attendees with important tips on how to "accelerate" their career such as learning different ways of communication and how to be innovative.
Born and raised in Malden, Harris currently resides in Cambridge. After receiving his degree in Chemical Engineering with a minor in Material Science at UMass Amherst (Class of '16), he went off to Sanofi, a global and well-distinguished biopharmaceutical company focused on healthcare. He works on early research development focusing on discovering molecules phases that can help cure health diseases like Alzheimer's, mucus, or the common cold.
In his free time, he loves rowing dragon boats; in fact, this past year he has been doing it more and more. Aside from dragon boats, he has recently grown an interest in photography as he is trying to currently work more on his composition. Check out his photography on his Instagram @harris.zhao.
One of Harris's favorite quote from NAAAP is by Samson Lee who currently serves on the NAAAP's Board of Directors: "as a single person you can do a lot; as a group, you can do much more."
---