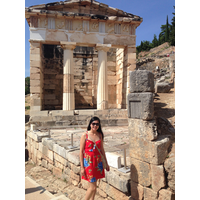 The president of the Boston chapter for NAAAP, Victoria (Vicky) Liu, moved to Boston four years ago from Windsor, Connecticut. This is now her third year with NAAAP. She received her Bachelor of Science and Doctorate of Pharmacy from the University of Connecticut School of Pharmacy. Her current day job is very different from her role in NAAAP. As an ambulatory clinical pharmacist, she works in a primary care clinic and directly works with patients to help them manage their chronic disease states, such as high blood pressure, high cholesterol and diabetes. Liu also teaches pharmacy students, pharmacy residents, medical students and medical residents. When she was a child, she knew that she wanted to do something in healthcare; thus she pursued her dreams to become the leader she is now. Additionally, she enjoys embarking on new adventures by going scuba diving, zip-lining and even cave exploring. She has also traveled to Greece, where discovering their mythology and culture gave her a new outlook on life.
Liu first got in contact with NAAAP after attending a social event, where she met people that encouraged her to volunteer for the organization. Her first event was the Annual BBQ, where she got to meet many board members and leaders from NAAAP. She then got involved with the Training and Development Committee, which focuses on internal development for NAAAP Boston's own executive team and leaders. In addition, she organized the internal retreat for the year. She enjoyed her first retreat and found that the NAAAP team really cared about each other.
After taking on the position as president of NAAAP, Liu developed a unique skillset. She believes that it is her role to empower and inspire her leadership team so that they can help NAAAP accomplish its goals in advancing professional development, leadership development and community engagement. Liu is involved with overseeing the strategic direction of NAAAP as well as actively engaging and supporting the NAAAP Boston leaders to help them become successful. As a result of her involvement, she meets a range of diverse people who help her expand her views and her thinking. She acquires skills and encounters specific experiences through NAAAP that her day job does not offer. This opportunity to grow as a leader is incredibly powerful and valuable to her.
Despite the fact that Liu initially joined NAAAP for the professional and leadership development, she stayed for the support and the NAAAP family. Thanks to Victoria, NAAAP Boston chapter has grown so much throughout the years she has been in this family.
---