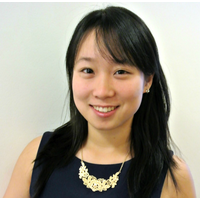 NAAAP Boston is pleased to announce our new Vice President of Sponsorship, Swan Lee.
Swan first joined NAAAP with the desire to connect with the Asian community in Boston and to make an impact in her community. With a strong interested in volunteering, she learned about the organization's Community Service Committee and WIN's (Women in NAAAP) Lean-In Circle program through her co-worker Lee Ann, former National Liaison. She started out as a volunteer and eventually became the Director of Community Service.
Through her time with NAAAP, Swan took on many projects that aligned with her passion. For example, as a first-generation Asian American immigrant, Swan is eager about offering support for underprivileged Asian youth with their transition from high school to college. Her work with the NAAAP mentorship program cultivated her passion, as she matched Asian American professionals with incoming college students to provide them guidance in their first year. She recalls receiving an email from a student who expressed how the mentorship changed his mind-set about social life and internship program as a highlight to her experience.
Furthermore, Swan took on leadership opportunities that she would not have had otherwise outside of NAAAP. With the Community Service Committee, she successfully led a team, a skill she could not grow extensively through her professional job. She grew by overcoming challenges: whether it was balancing responsibilities and sharing tasks or learning how to communicate better with the team. Taking on a such a leadership role gave her a chance to connect with her volunteers and make a powerful impact.
Outside of NAAAP, Swan is a data scientist at Sun Life Financial, having worked with the company for the last three years since her graduation from Brandeis University. Originally from South Korea, she can be found watching Korean dramas as well as teaching kids how to code, cooking (and more importantly eating), running around Boston, and solving puzzles.
Swan encourages others to join NAAAP as she mentions that it was "one of the best decisions I've made. I needed motivation to continuously develop myself and this was one of the best ways to do it. Through NAAAP, I coordinated mock interview workshops, interviewed students for Scholarship awards, and attended workshops on how to break the bamboo ceiling. Additionally, I made some amazing friends through those events and we make sure to have fun! With my Community Service group, we held a retreat at Cape Cod, organized a Friendsgiving board game night, and successfully completed in Escape the Room. I have countless memories from NAAAP and you will too when you join us!"
Post written by Michelle Chung.
---