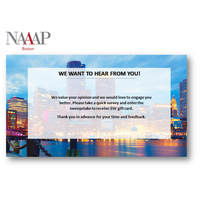 We are inviting you to participate in the 2018 NAAAP Membership Survey online, open now through February 28, 2018. We will randomly select one winner from the survey respondents to receive a $50 Amazon gift card.
Please share the link with your fellow NAAAP members in your network!
The survey is confidential, it is brief (takes 10 minutes or less), and it is enormously helpful to our organization and our partners.
The survey will be open until March 7th, 2018.
---