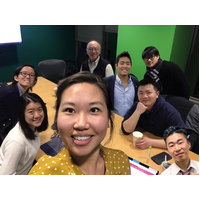 Hi everyone, and welcome to our new website!
We're happy to announce that after months of hard work and late meetings, the new NAAAP Boston website officially went live on March 10, 2017!
Our goal with this new website is to provide you with a single, intuitive platform to learn more about the services that NAAAP Boston offers. The new site also contains integrated social media buttons for Facebook, Twitter, and LinkedIn to foster improved communication with friends, fellow members, and the NAAAP Boston leadership team.
We will continue to update our new website with upcoming events, new partnerships, job openings at our sponsor companies, NAAAP Boston volunteer positions, and much more!
Of course, the successful migration would not have been possible without our amazing project team (some of the team members weren't present for the group picture so we had to Photoshop them in .. mwahaha).
These folks volunteered their time to make sure this transition to the new site was smooth, and we are so grateful that they stuck with us until the very end:
Jim Fong (Chairman of NAAAP Boston Board)
Michael Chen (Volunteer)
Sara Choi (Vice President of Member Relations)
Tony Zhang (Volunteer)
Tanya Giang (Co-Director of Technology)
Jeffrey Giang (Associate Director of Technology)
Iyleen Summer (Vice President of Operations)
Jason Chou (Volunteer)
Cathy Cam (Volunteer)
As always, thank you all for supporting our organization and helping to further our mission to cultivate, support, and promote Asian and Pacific Islander leaders in our community.
Sincerely,
The NAAAP Boston Executive Team
---